Directrice générale du groupe Etoile, poids lourd du luxe au Moyen-Orient, régulièrement qualifiée de « femme la plus influente du monde arabe », Ingie Chalhoub est également à la tête depuis 2009 de sa propre griffe de prêt-à-porter et d'accessoires, Ingie Paris. Afin d'en savoir plus sur les enjeux et les ambitions de cette créatrice et businesswoman avertie, mais aussi sur sa conception de la femme, ses inspirations et sa vision du marché du luxe au Moyen-Orient dans les années à venir, nous avons souhaité questionner Ingie Chalhoub.
How did the idea of creating your own fashion house come about ?
I have always had fashion and creativity running in my veins. As I ventured into the luxury and fashion business, I took the step of creating a few designs and actually producing and showcasing them at Etoile 'La boutique'. Based on the great feedback of the customers and the success received, I started creating more and more looks into my collection under the brand name of INGIE Paris. Now, INGIE Paris collections are part of the Chambre Syndicale de la Mode's Official Calendar and we have three boutiques in the Middle East and we are sold exclusively at Le Bon Marché and LUISA VIA ROMA.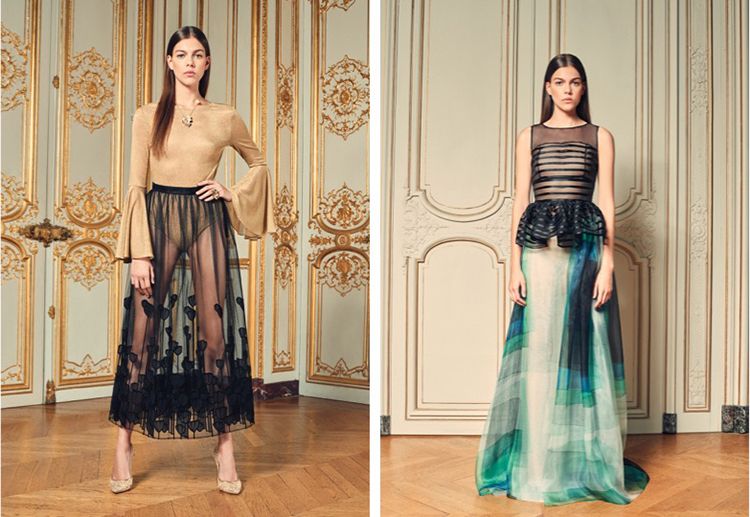 Ingie Paris Summer 2017
What is the Ingie Paris mission statement / philosophy ?
INGIE Paris is a niche brand that embodies a subtle combination of Parisian allure and glamorous cuts. Our philosophy is to create designs to show a woman's silhouette at her best, thus we are reputed for our intricate detailing and careful sourcing of the most luxurious fabrics.
What are your inspirations ?
I travel to many places across the world which is always a source of inspiration. I love reading, visiting art galleries and capturing inspiration from daily details on my iPhone camera as a source of inspiration for my future collections.
Who are your creations aimed at, how would you define the Ingie Paris woman ? Are your creations primarily targeted at Middle Eastern women, or western women ?
We create designs for a woman who is used to and likes to be noticed, irrespective of their background. We pride ourselves on creating sensual and sophisticated silhouettes, attracting many red carpet actresses looking for a niche brand to look different to the crowd – Olivia Wilde, America Ferrera, Jessie J, Busy Philipps, Valérie Kaprisky, Sophie Marceau, Pamela Anderson and Melora Hardin, to name a few.
You are often rated as one of the most powerful Middle Eastern women, and recognized as a style icon, how would you use this influence to your advantage ?
I believe in the importance of focusing on emerging designers because they are the future of the fashion industry. I see so much talent around me and it makes me proud to support it and watch it grow. I use my influence to showcase designers in my concept store Etoile "La boutique" thus, offering our customers and the fashion shoppers in general the opportunity to discover creations that are unique, different and personalized.
What are the charities/causes, that matter to you / are important to you ?
I am involved in many humanitarian activities and actively support breast cancer research as an ambassador for the Pink Caravan organization in UAE and the 10KSA project in Kingdom of Saudi Arabia. I also support the initiative Dubai Cares and we actively contribute to their charity programs across the Etoile Group.
Who are the women that inspire you ?
My mother is my mentor and role model. From her, I learnt the simplicity, yet sophistication of beauty. She inspired not only my love of fashion, my sense of style but also my business acumen.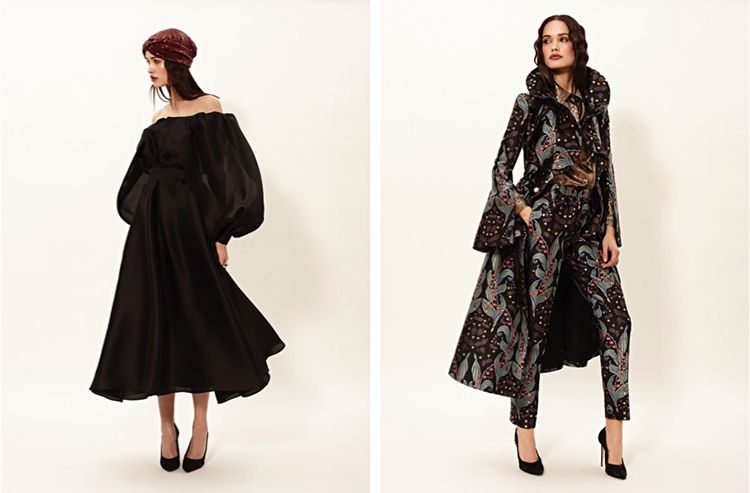 Ingie Paris- prefall 2017
How do you manage to match/join together both your creativity and business sense ?
Fashion has been at the forefront of my world since I was a girl. It was my creative talent that first drew me to fashion – my sketching and drawings of fashion as a young girl were very good and I won a prize when I was 15 years old. I was very good at Maths as well though, and my parents insisted that I pursued my schooling – they were terrified that I would drop out to become 'an artist' ! So I wanted to work in an industry that could combine both.
Ingie Paris in a few numbers ?
We have 3 standalone Boutiques – Kuwait, Kingdom of Saudi Arabia, UAE plus a main expansion in Dubai Mall to open in 2017.INGIE Paris is retailed in 8 countries at 17 points of sale within Europe, Russia, Uzbekistan, UAE, Kuwait, Kingdom of Saudi Arabia, Qatar and Bahrain with ongoing ambitious growth plans.
What is your commercial network (boutiques / corners) and what is your international presence ?
We opened our first INGIE Paris Boutique in Kuwait in 2013 and opened 2 more boutiques in 2016 – Abu Dhabi in UAE and Riyadh in Kingdom of Saudi Arabia. In 2017, we will open more Boutiques in Dubai and Paris.
We also sell at : Le Bon Marché , Paris, Luisa via roma, Florence, Leraina, Odessa, Etoile "La boutique" in Dubai, Kingdom of Saudi Arabia and Kuwait, Saks 5th Avenue, Bahrain, 51 East, Doha, Glamour 6 and Podium Italia Arkada, Tashkent in Uzbekistan, Christi Boutique, Makhachkala in Russia…We have international presence in 8 countries – Europe, Russia, Uzbekistan, UAE, Kuwait, Kingdom of Saudi Arabia, Qatar and Bahrain.
Are you still Head of the Etoile Group ?
I am Creative Director of INGIE Paris and President and Managing Director of Etoile Group.
What do you see as your next challenge, areas for development ?
My next challenge is to continue the growth trajectory for INGIE Paris, moving forward with international expansion. As well as maintaining and growing the Etoile Group position – of being the Middle East pioneer in luxury retail and creativity.
What are your thoughts of the future evolution of the luxury industry in the Middle East ?
The Middle Eastern clients are every sophisticated, exposed and cultured. They are jetsetters and fashionistas that travel the world not only to be inspired by the international fashion but also to influence it. In other words, they are either aware of the international trends or very likely to embrace any new introductions to become the latest trendsetters. Time and distance barriers don't exist, which means that the customers are more demanding and more sophisticated now. If you don't have all the latest trends and hot brands available for them, they would be able to access or order them from anywhere else in the world online.
Are France and Europe still attractive markets for foreign labels ?
Yes it is always. It is very hard to succeed in France and in Europe in general but this is your door to other continents, including Asia and America.
Do you believe that recent events/security issues in France will have a significant impact of foreign clientele in particular those from The Middle-East ?
I hope not. Life goes on and as long as Paris is the city of fashion, glamour and love, Clientele from all over the world will continue to visit it.
What needs to happen to regain their trust ?
For life to go on as normal.
What is your favorite district of Paris and why ?
I live in the 16th Arrondissement. This is where I studied at the school of Lubeck and it is a great residential area, near parks and the enchanting Bois de Boulogne, close to good schools and universities like Dauphine which one of my son's went to.
What is your favorite restaurant ?
Loulou as it's like the dining room of a decorative arts collector !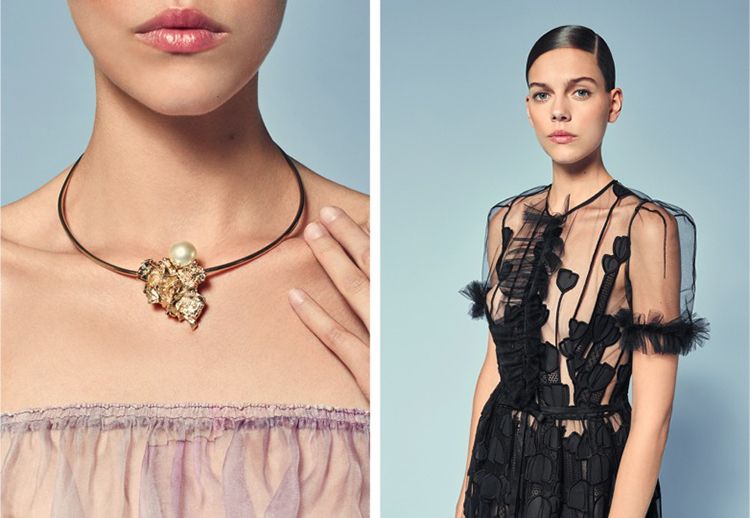 Ingie Paris Summer 2017