Née à Taiwan, fille d'un sculpteur et d'une femme d'affaires, Cindy Chao passe une grande partie de son enfance à visiter les temples traditionnels construits par son grand-père architecte. Très vite, elle développe une profonde passion pour les arts, qui prend vie le jour où elle sculpte sa première pièce de joaillerie, dans laquelle elle insuffle autant d'émotion que d'excellence technique. En 2004, la maison Cindy Chao The Art Jewel voit le jour, mettant alors en lumière un processus de création disparu : le moulage sur cire. Aujourd'hui, Cindy Chao s'illustre comme l'une des créatrices les plus talentueuses, et ses pièces joaillières remarquables connaissent un grand succès auprès des collectionneurs, ainsi que des plus prestigieuses maisons de vente aux enchères. abc-luxe l'a rencontrée. Une occasion de mieux cerner sa philosophie, mais aussi ses ambitions.
Your grandfather was a famous architect and your father a sculptor…Did they play an important role in your desire of practicing this job ? What were their influences and their teaching ?
Ever since I was a child, my father and grandfather imprinted an idea in me – true art has to be able to stand the trial of time, and only true art can transcend time and be passed on from generation to generation. My grandfather used to take me to the temples he was working on, and I would stay alongside with him while he explained the blueprints and constructions to the craftsmen. Recently I found some of his old design drafts. It was amazing, back in the days when there was no computer technology, how he was able to draft out the temple designs in three dimensional layers. My father would often comment on my projects, and share with me his words of wisdom – Regardless of the subject, the final piece must be as vibrant as it is in real life. Spend time to observe the object. Pay close attention to the minutest detail. And then, with your heart and soul, put into form what you've perceived.These words, spoken to me by my father whilst he helped develop my craft, remain with me in each and every art jewel I bring to life.
Where does your inspiration come from, especially in terms of aesthetics ?
My inspiration comes from my surroundings, interactions and life experiences. I believe that it's the individual artistic eye seeing and applying the emotions behind the creation of the pieces that give life to an artist's works. The ability of each and every person to see something differently and re-interpret it in their creations is what sets each creator's works apart.
The image of the butterfly is essential to your work, does it have a special meaning to you ?
A butterfly's life span is fleeting yet pure, undergoing several transformations in a short period of time. This metamorphous is one I have undergone as an artist, transforming and pushing myself to create and share something pure and beautiful, pushing limits to give life to something even more spectacular than the last creation.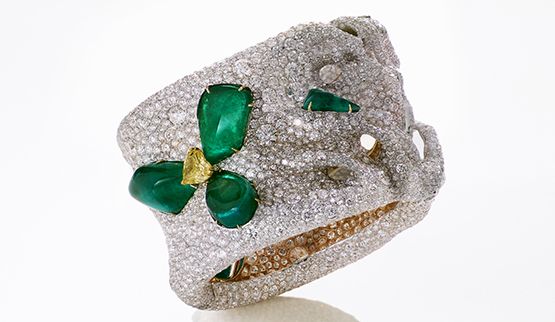 Cindy Chao and Sarah Jessica Parker's Ballerina Butterfly.
What are the selection criteria of the materials you choose for your creations ?
Our selection process for gemstones is one of precision and rigor, selecting only the finest gemstones. My team of gemologists sift through hundreds of gemstones ensuring a standard of diamonds that range from D,E, F color, and a clarity range between IF to VVS. This allows each art jewel to be brought to life through the imagination of the design and the brilliance and majestic beauty of the gemstones that are hand selected for each creation.
How do you manage to conceptualize jewels in 3D with an aesthetic that realistic, what are the confines ? Do you have a team helping you out in the confection of the jewels ?
A true piece of art, in addition to its ability to transcend time, must also embody the creator's dedication and enthusiasm. I think it is because of this sheer dedication, the viewer can truly feel the depth in each of the pieces we create. Often I would place the newly finished wax model on my desk. I will only go on with the creation if I'm still satisfied with the design after 2 months' time. If by then I no longer feel passionate toward the piece, then how can this piece be appreciated by anyone after 10 or even 20 years ? Once the wax models are completed, we create sketches to help the diamond setters and master craftsmen to visualize the coloration of the final art jewel. We are continuously looking to challenge and pioneer new techniques outside the traditional parameters on this most age-old technique to bring forth the most beautiful art jewels into creation ! Each one of my artworks is custom-made and are one of kind, featuring rich structural layering and 360 degree composition. The Black Label is my exclusive series that highlights the masterpieces of CINDY CHAO, the most extravagant designs merged with the rarest gemstones are forged into life by the brand's innovational and dedicated art craftsmanship. From conception to completion taking 24-36 months, quality masterpieces are created in limited numbers per annum.
Are you taking into account the comfort of your creations ?
I have always believed that jewelry should be worn, not merely appreciated from afar. I continue to insist that every art jewel is designed in 360 degrees, bringing to life the sculptural detailing surrounded each creations, but most importantly, using the finest materials and gemstones, so that it can be savored from all angles, and appreciated by the wearer. This is difficult to accomplish because the craft of jewelry is a traditional knowledge passed down from generation to generation, and we try very hard to use create new gem-setting technique and new materials. Recent years we started to work with titanium, with the idea to create art jewels with grandeur and higher functionality. Titanium, as the hardest metal, is extremely difficult to be fully paved with diamonds and gemstones. Time spent to work on a titanium piece is doubled that of a gold piece. It is a work that requires experienced craftsmen and total concentration since once mistake could cost months of work to be wasted. It took our craftsmen in Geneva two years to be able to set 4,700 of gemstones on our latest 2014 Black Label Masterpiece I, Ballerina Butterfly. The advantage of using titanium is its lightness and comfort, allowing my imagination to sore, without the limitations of functionality.
How often do you launch a new collection ?
Drawing inspiration from my surroundings and experiences, I am often working on several creations at any given time, perfecting my wax models to incorporate new details into the pieces to captivate the essence of my designs. My creative process focuses on bringing to life individual designs, irrespective of a specific collection. My Black Label Masterpieces are unveiled in exclusive, appointment only exhibitions, twice a year. The most recent unveiling was during the brands January Haute Couture exhibition in Paris !
Could you please enlighten us on the price range ?
Each of the very limited annual Black Label Masterpieces take up to two years to design and handcraft, and each captures my heart and soul. When viewing these Masterpieces, one really needs to take the time to listen, to comprehend, and to savor them. This results in an elevated price, starting from 1million US upwards. The White Label Series, an extension of the Masterpieces, offers a glimpse into the world of the Black Label Masterpieces. They have a lighter tone in an emotional sense, and have more variations. The White Label Series range from 40,000 US upwards.
You are the first Taiwanese jeweler to be part of a high jewelry program of auction sale at Christies, first Taiwanese designer who presented her creations in the precious gems collection of the Smithsonian Institute National Museum of Natural History and some of your creations were sold at record prices…How do you feel about being the ambassador of Asian Jewelry of the 21st century ?
I believe that art is a revolution and a heritage. A revolution in a sense that all the great artists that we know of today, be it Damien Hirst of the 21st Century or Michelangelo from the Renaissance, they all had innovative ideas within their time. They had a vision, and materialized this vision through their preferred medium. This is something I aim to do with each art jewel I bring to life. I aspire to innovate, pushing the boundaries in design and craftsmanship, using my preferred medium for expression, precious gemstones.
How did you find your first clients and how does the creation process takes place during an order ? My first client was a close friend, who entrusted in me the privilege of creating a commissioned piece for her. This led to a lasting professional relationship, 10 years onwards and continues to grow. My design process is laborious but extremely rewarding, as we are involved in all the details from wax moulding, design, setting, to the final production. The typical design process starts first with my inspiration, and then I hand-carve and sculpt the wax model. The benefit of wax sculpting is I can carve the curves, the undulations, layers and the silhouette that I want my pieces to take form. On the wax, I can structure the piece in detail from every angle, giving it the rich depth that a simple design sketch could never contain.
Once the wax models are completed, we create sketches to help our diamond setters and master craftsmen, whom are based in Geneva, Lyon and Hong Kong to visualize the coloration of the final art jewel. We are continuously looking to challenge and pioneer new techniques outside the traditional parameters on this most age-old technique to bring forth the most beautiful art jewels into creation !
Your collaboration with Sarah Jessica Parker was a huge success. Are you planning on doing new collaborations ?
The collaboration with Sarah Jessica Parker was a singular experience where I was able to explore my creative vision with a friend, as well as with someone who shares a passion for the arts, bringing an individuality and flare to the design process. This collaboration was the first within my career, and therefore in and of itself represents a new milestone. Adapting my creative process to ensure Sarah Jessica Parkers vision and emotion was incorporated into my own was a wonderful and challenging experience. The desire to ensure perfection, as I do with all my pieces, led to the process taking over two years ! This experience further led to new opportunities as I had the immense honor of being co-chair of the New York City Ballet, and witnessed the international promotion of the Ballerina Butterfly by Sotheby's, alongside a dear friend and creative partner. As for future collaborations, we shall have to wait and see who or what next inspires me.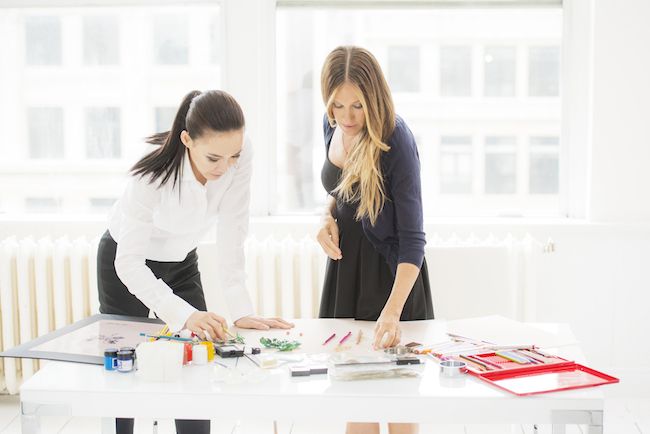 Collaboration avec Sarah Jessika Parker
Which one Is your favorite piece ?
It is always difficult for me to select a favorite, often saying my next creation as I know I will surpass myself in design and craftsmanship. This said, I would have to say my current favorite is the 2015 Black Label Masterpiece Rose Earrings due to the balance of gemstones selected to perfect the tone and coloration of the piece, capturing a fleeting moment in time. The use of silver was a deliberate request to emphasis the greyish matte effect, further highlighting the colored gemstones to intensify the color and create a sense of mystery.
What are your ambitions and how do you see yourself in 10 years ?
My goal in the coming years is to continue pushing the boundaries in technique and craftsmanship when creating each of my art jewels ; offering a part of my vision to each design, leading and inspiring collectors to explore and appreciate inventive creations within jewelry. I aim to create meticulously detailed art jewels, with exquisite craftsmanship, using supreme gemstones ; whilst inviting collectors to explore and appreciate the creativity and vision I am sharing through my art jewels.
Do you have a dream that you did not fulfill yet ?
My dreams and aspirations evolve as I do. Being an artist, I am in a constant state of growth, finding inspiration in my surroundings, which are manifested and brought to life in ways that bring about new dreams and desires.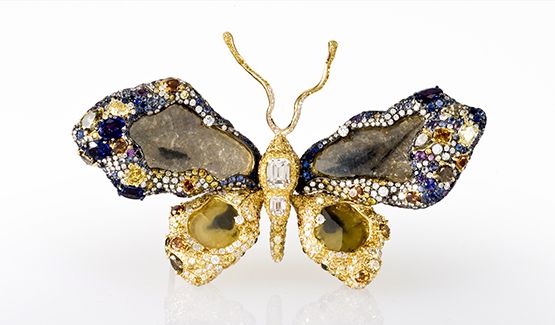 What are you the most proud of ?
I have had several highlights these past 10 years, which I look back upon with privilege and modesty. Each of my art jewels carry a significant meaning and importance to me, and defining one particular piece which carries more meaning than another is difficult. That said, the induction of my 2009 Black Label Masterpiece I, the Royal Butterfly into the Smithsonian National History Museum, remains a great honour. The museum has the world's largest gem collection, but mostly period pieces or gemstones. I recalled the day of official induction, many press on site asked the curator, Dr. Post, "why Cindy Chao and a contemporary art jewelry piece". He said that as a museum, they have the responsibility to preserve history, and he thought the Royal Butterfly, with its creativity and craftsmanship, would be a representation of the 21st century. Therefore the Smithsonian collected it to « ensure that generations to come may enjoy the craftsmanship of this timeless piece ».